Durable Steel RV covers
Want to know what's possible with your next building? Check out our portfolio below to see the buildings we've done for our past happy customers. Contact us for a free quote or build your own building.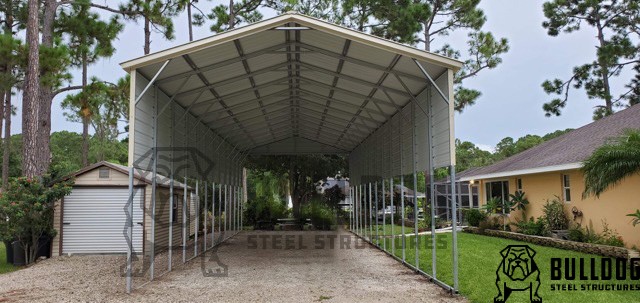 Durable Steel RV covers
Durable Steel RV covers
Metal RV Covers
RV Covers Protect Your Investment in Style
You've invested a great deal into your RV, and no doubt want to ensure that enjoyment and relaxation stretch far into the future. You need to ensure that your investment is protected, and the simplest approach is a metal RV cover or steel motor home cover to keep everything safe.
Protect your investment and plans with a steel RV cover from Bulldog Steel Structures. We offer different sizes of RV covers to make sure you have one that protects your RV sufficiently.
Contact Bulldog Steel Structures at (888)-551-2156 to learn more about the RV cover options we offer.
Why an RV Cover Is Necessary
When an RV sits outside while not in use, with no protection or cover, the vehicle can experience a great deal of unnecessary wear and tear. Sun damage and damage from other weather, including falling branches or debris from high winds, can put an unnecessary strain on your RV.
Why risk damaging your RV when you can protect it from the elements? With an RV cover, you can help keep your RV operating and looking like it did the first day you brought it home.
Benefits of Using an RV Cover
Did you know there are many benefits to installing an RV cover? A high-quality RV cover protects the RV from weather and sun damage, helping it retain its value, function, and appearance. You'll also have peace of mind knowing that your investment is secure.
With an RV cover, you can:
Protect your RV's paint, finish, fabrics, and other components from UV damage.
Prevent dust, dirt, sap, or bird droppings from accumulating on or damaging your RV.
Repel rain and snow while still being breathable to allow moisture to escape.
Reduce black streaks from rain, snow, or dew and how often you need to wash your RV. 
Preserve your RV's resale value because it will be in better condition for longer.
Reap the benefits of an RV cover by selecting one of our many options. Contact us today at (888)-551-2156.
Rent-to-Own RV Covers Delivered to Your Home
Own your RV cover in three years or less while staying within budget with our convenient rent-to-own program. After customizing your ideal RV cover and filling out the paperwork, you'll be immediately approved with no credit check required.
With our rent-to-own program, you can take advantage of:
Flexible payment options
Affordable monthly payments
No credit check
Instant approval
No early payoff penalties
RV Cover Options
Our metal RV covers are available in a wide range of styles, colors, and sizes to meet your requirements. We offer numerous types of RV covers in regular and vertical roof styles.
Available features include:
 12- and 14-gauge steel structure tubing
 29-gauge metal sheeting
Open, partially closed, or fully closed sidewalls
Regular ends, gable ends, or extended gables
We provide ready-made RV covers and custom-built designs to meet your exact requirements. These covers are also an excellent way to protect other vehicles, such as boats, trucks, motorcycles, cars, and agricultural equipment.
For your convenience, we offer rent­-to-own and online buying options. Delivery is quick, and the installation is free. Call us to learn more about our RV covers or ask any questions. Let us help cover your RV in style.
Contact Bulldog Steel Structures at (888)-551-2156 for pricing information and a free quote. 
Suggested Reading
ROOF STYLE
BOXED EAVE RV COVERS
Our boxed eave-style shelter protects your RV in style at an affordable price. This style offers robust protection against the elements and is fitted with an A-frame roof line with horizontal panels.
REGULAR RV COVERS
These RV covers have finely twisted, round-cornered metal roofs and are a great, affordable, and long-lasting solution.
VERTICAL RV COVERS
Vertical roofs provide heavy-duty protection from all harsh weather elements like heavy snow, hail, or rain which can cause serious damage to your RV cover over time.
All our RV covers will protect your RV, but the vertical roof style goes the extra mile.
delivering & installing
throughout
the united states
Bulldog's metal barns, garages, and carports are available for delivery and installation in most of the U.S. Whether you're a homeowner in Maine, a rancher in Texas, or a small business owner in California, you'll get to-your-door delivery and professional installation, so your building will be sturdy and reliable for years to come.
See Service Area
See Service Area