Custom Metal Buildings
Want to know what's possible with your next building? Check out our portfolio below to see the buildings we've done for our past happy customers. Contact us for a free quote or build your own building.
20′ x 30′ x 9′ Custom Building
Custom Metal Buildings
30' x 40' x 12' Custom Building
Custom Metal Buildings
44′ x 26′ x 14′-11.5′-10′ Custom Seneca Barn
Custom Metal Buildings
30′ x 90′ x 9′ With 30′ Storage
Custom Metal Buildings
30′ x 55′ x 12′ Custom Building
Custom Metal Buildings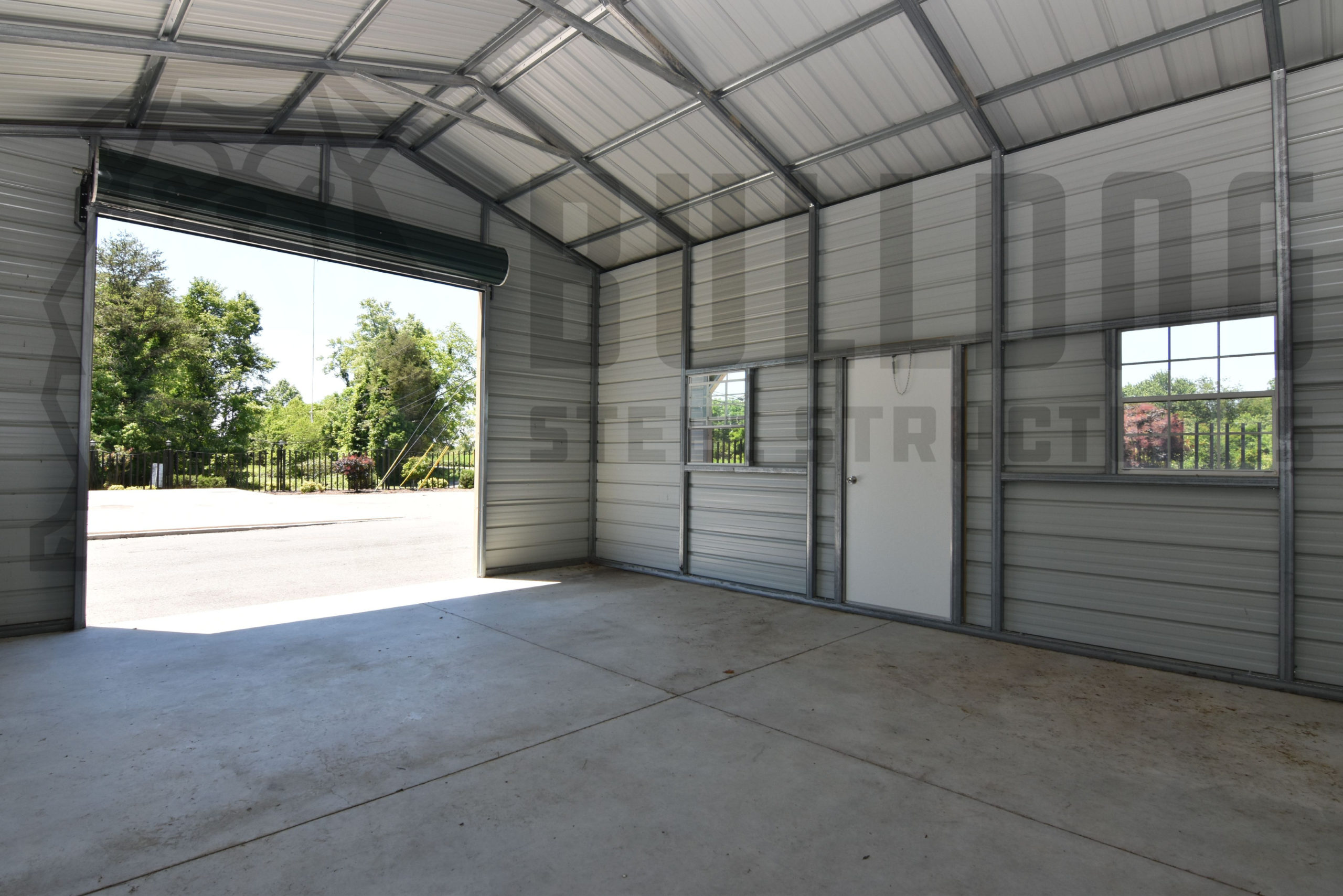 24′ x 25′ x 10′ Custom Building
Custom Metal Buildings
20′ x 45′ x 12′ With 15′ Storage
Custom Metal Buildings
18′ x 35′ x 9′ With 10′ Storage
Custom Metal Buildings
Custom Metal Workshops & Buildings
Benefits of a Custom-Built Metal Workshop
If you've been debating whether or not a steel workshop building is for you, you should consider the many benefits that come along with choosing a metal structure. Just a few of these benefits include:
Economical: Metal workshop buildings are more cost-effective than other types of buildings and require less upkeep, meaning you'll have more money to put toward your hobby or trade.
Physical Flexibility: You might only need a medium-sized workshop now, but what if your business takes off? Will you be able to expand? By choosing a custom metal workshop, you can rest assured knowing that expansion is not only possible, but simple, too!
Durability: Unlike wood and similar structures, metal structures are more durable and can withstand the elements. When you choose a custom steel workshop, you won't have to worry about termites, the elements, or the maintenance that comes with other types of structures.
If you've decided on a custom metal workshop, but aren't sure where to start, our experts can help! We'll explain the different possibilities to you and help you configure something that fits your exact needs.
Check out our metal workshops >>
The custom metal workshop you've been wanting is closer than you think – get your free quote from Bulldog Steel Structures today!
Why Choose Bulldog Steel Structures?
At Bulldog Steel Structures, we offer expert solutions for all of your storage needs. We'll work with you closely to create the exact steel structure you want by using our efficient communication system that is second to none. Other benefits to working with us include:
AMERICAN MADE
All our galvanized metal buildings are made right here in America to ensure the highest standards of quality control, materials, and design. You can be confident that our metal is of the highest quality and consistency, whatever your budget.
BEST ONLINE PRICES
We offer top-notch buildings with the best online prices. Our pricing is the most competitive you'll find in the industry. We confidently price match when provided with a quote from an equivalent competitor.
FASTER DELIVERY
We provide free home delivery and free installation for any structure you've purchased. All you need to do is select your building and wait for delivery right to your site.
See the difference working with Bulldog Steel Structures makes – contact us today to get started on your free quote or to learn more!
Suggested Reading
FREQUENTLY ASKED QUESTIONS
What Type of Warranty Do I Have on Workmanship?
A one-year warranty on the workmanship of the product is included, and the installers that our manufacturers contract are highly trained with years of combined experience and all the latest tools that meet current industry standards. We are proud to be able to offer the best installation possible and the warranty is in place to back up their work.
How Long is My Building's Warranty?
Each building that is upgraded to 12-gauge steel comes with a 20-year rust-through warranty.
Permit requirements vary from county to county, however, it is very important that you investigate this matter before ordering a building. Please check with your local code office to see if your county requires a permit for your structure. Even if you discover that your area does not require a  permit, we still highly recommend that you get the structure certified for long-term peace of mind. 
Do You Offer Financing or Rent-to-Own?
Depending on the results of a credit score check, you may be able to finance your structure through our financing program. We have different financing options with competitive prices and reduced interest rates that will allow flexible contract terms ( 24, 36, 48, and 60 Months). If you are unsure about qualifying for the program, we can submit an application on your behalf to determine your eligibility. 
We also offer a rent-to-own program that does not require a credit check.
Give us a call at (888)-895-3304 to get more information about both our financing and rent-to-own programs to see if it is the right choice for you.
delivering & installing
throughout
the united states
Bulldog's metal barns, garages, and carports are available for delivery and installation in most of the U.S. Whether you're a homeowner in Maine, a rancher in Texas, or a small business owner in California, you'll get to-your-door delivery and professional installation, so your building will be sturdy and reliable for years to come.
See Service Area
See Service Area