Metal Barns
Want to know what's possible with your next building? Check out our portfolio below to see the buildings we've done for our past happy customers. Contact us for a free quote or build your own building.
36′ x 45′ x 8'/12′ Carolina Barn
Metal Barns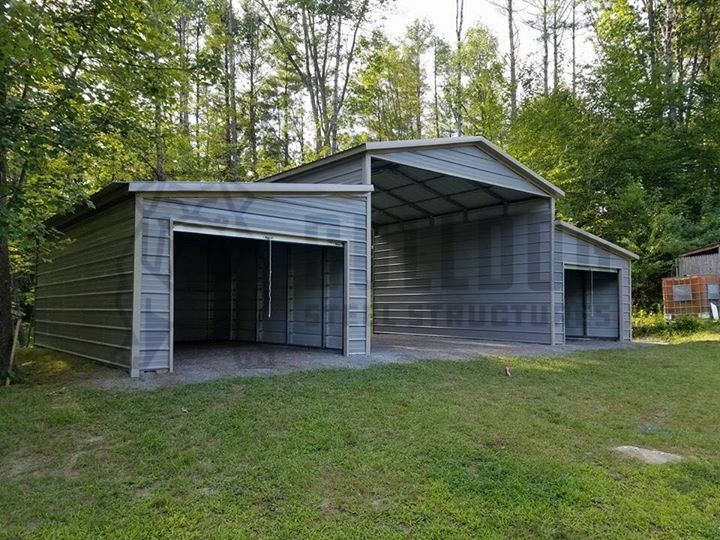 46'x25'x11'-7' Carolina Barn
Metal Barns
44'x25'x12'-9' Carolina Barn
Metal Barns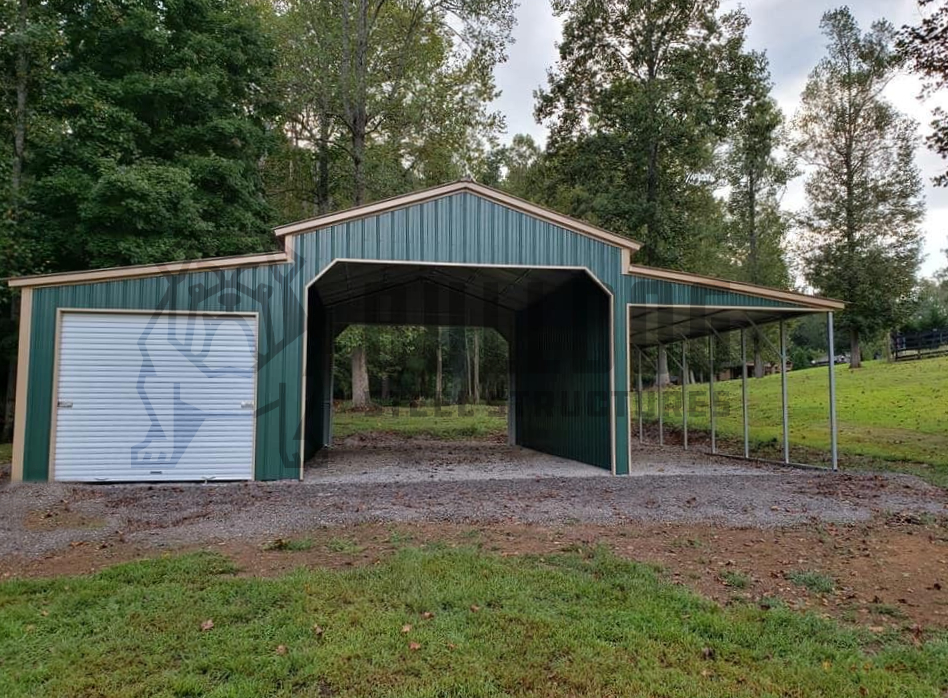 44'x30'x12'-9' Carolina Barn
Metal Barns
48′ x 40′ x 12′-15′ Seneca Barn
Metal Barns
50′ x 25′ x 14′-11′ All Vertical Horse Barn
Metal Barns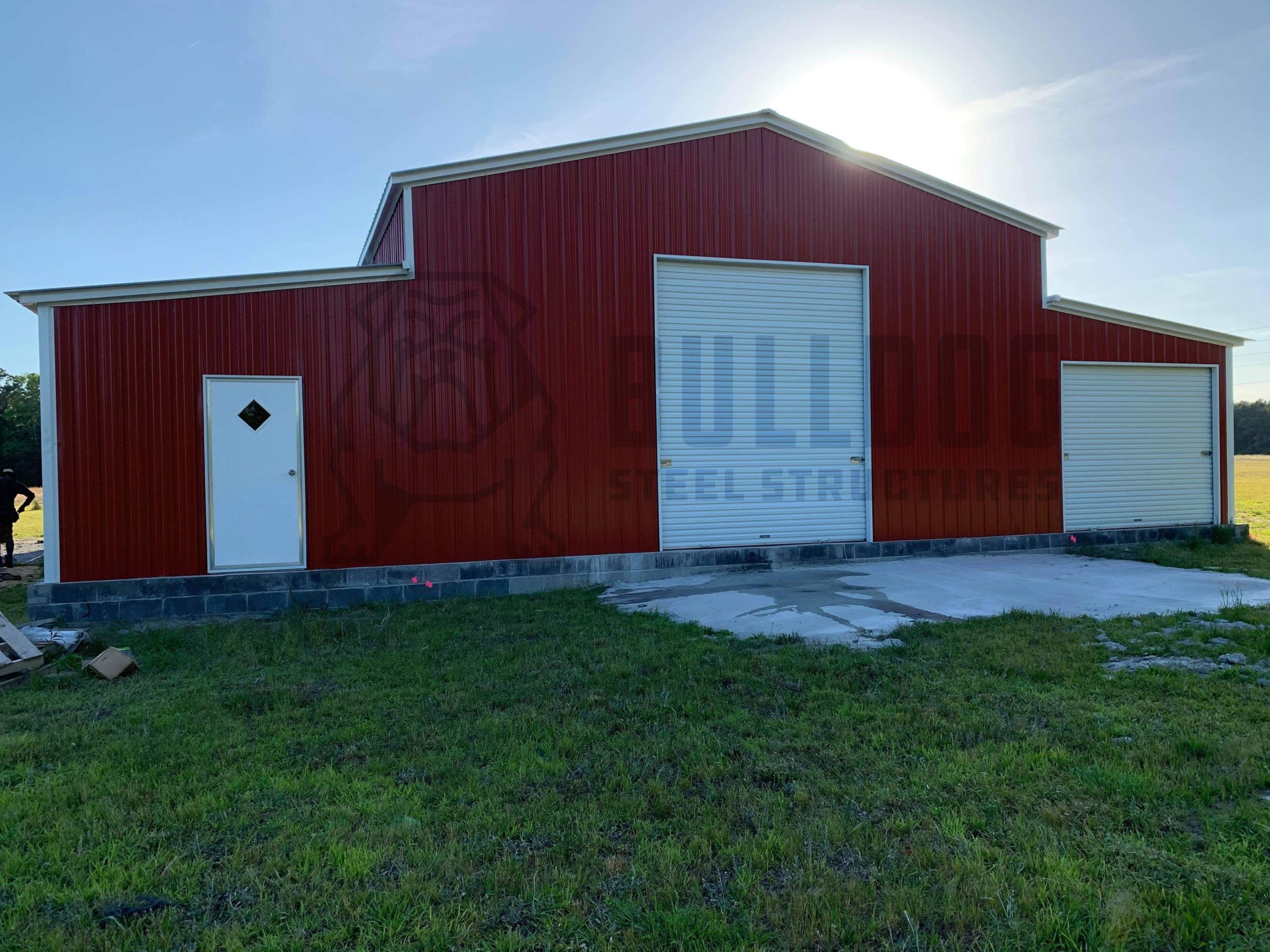 48′ x 40′ x 14′-8′ All Vertical Carolina Barn
Metal Barns
48′ x 35 x 13′-9′ Carolina Barn
Metal Barns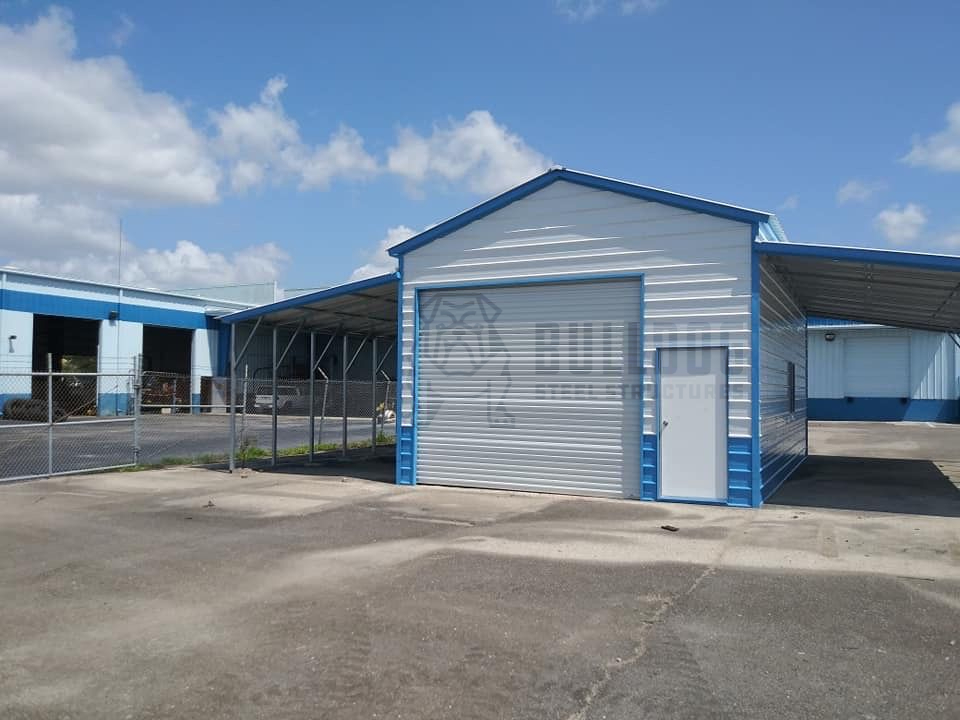 42′ x 40′ x 12′-9′ Carolina Barn
Metal Barns
Custom Carolina & Seneca Barns Delivered to You
When it comes to your barn, don't settle for the typical pole or wooden barn. Enjoy a more secure and attractive option by choosing a custom metal barn from Bulldog Steel Structures.
Wooden barns are susceptible to damage from fires, termites, and weather. They also require treatment every year to keep them in good condition.
Say goodbye to the headaches of maintaining wooden barns – choose a durable metal barn instead. At Bulldog Steel Structures, we offer steel barns manufactured here in the U.S. to keep your livestock and equipment safe.
See why custom steel barns are a top choice for people looking to protect their investments. Contact us today at (888)-551-2156 to learn more.
Benefits of Metal Barns
Whether you've just recently heard of metal barns or you've been considering one for a long time, they're a great option for anyone installing a new barn. Besides withstanding the elements better, steel barns have several other benefits that make them worth considering. These include:
Custom design: When you work with Bulldog Steel Structures, we can create a custom steel barn that fits your needs.
Less maintenance: As mentioned earlier, wood barns require annual maintenance to keep them intact. Avoid annual maintenance with a metal barn.
No rot or mold: Unlike wooden structures, steel barns won't rot or mold. This gives you one less thing to worry about as your structure ages.
Versatility: With a metal barn from Bulldog Steel Structures, it's easy to expand on your existing metal barn if you need more space in the future.
If you're looking for a barn that will withstand the elements, age well, require less maintenance, and fit your exact needs, look no further than an American steel barn from Bulldog Steel Structures.
We're confident in the integrity of our buildings and know you'll love your barn for years to come. We even offer a 20-year rust-through warranty. See why more and more people are choosing metal barns – contact our steel structure experts today.
Metal Barn Roof Styles
Carolina Barn: This tiered style offers ventilation for the animals inside while retaining the look of a traditional horse barn.
Horse Barn: This traditional structure offers the beauty and classic style you're familiar with, integrated with the durability of a metal barn. One big benefit is the second-floor windows, which allow natural illumination of the entire space. Bulldog Steel Structures proudly offers traditional and modular horse barns.
Seneca Barn: This simple style is great for anyone looking for something functional, simple, and easy to upkeep while maintaining an excellent outward appearance.
What Are Metal Barns Used For?
Versatility is one of the biggest advantages of metal barns. Here are a few ways our customers use them:
Workshops: Metal barns are perfect for woodworking, metalwork, mechanical work, crafting, painting, and other creative work.
Farm animals: A sturdy, secure metal barn from Bulldog Steel Structures is ideal for sheltering horses and livestock commonly found on farms. We offer both modular and custom horse barns.
Feed storage: Store hay, grain, alfalfa, and other animal feed in a metal barn to protect it from moisture, rodents, wind, and other problems.
Offices: Convert your metal barn into a home office for any business or for managing your household.
Living space: A metal barn with living quarters can be used as your primary residence or as an Airbnb barn for rental income.
Rent-to-Own Barns Delivered to Your Property
If the barn you've always wanted isn't in today's budget, consider our rent-to-own program. This program offers convenient, flexible monthly payment options, and no credit check is required. Customize your dream barn, understand the rent-to-own terms, and complete the paperwork for instant approval.
There are no penalties for early payoffs, and you can own your barn in three years or less. After your immediate approval, you can buy your metal building with the shortest possible lead time and have it delivered directly to you.
Why Choose Bulldog Steel Structures?
At Bulldog Steel Structures, we offer expert solutions for all your storage needs. We'll work with you closely to create the exact steel barn structure you want by using our efficient communication system that's second to none.
Other benefits of working with us include:
Metal Barns Manufactured in America
All our galvanized steel barns are made here in America to ensure the highest standards of quality control, materials, and design. You can be confident our metal is of the highest quality and consistency, whatever your budget.
The Best Steel Barn Prices Anywhere
We offer the top steel barns with not only the best online prices but the best prices available on the market. Our metal barn pricing is the most competitive you'll find in the industry.
We confidently price match when provided with a quote from an equivalent competitor.
Faster Delivery
We provide free home delivery and free installation for any structure you've purchased. All you need to do is select your building and wait for delivery right to your site.
Suggested Reading & Tips:
Frequently Asked Questions
How much do metal barns cost?
Our starting prices for metal barns are as low as $4,510. With so many options available, including custom metal barns, we have a barn for every budget. Contact us online to get a custom quote!
How long do metal barns last?
Our rugged, reliable, American-made metal barns can last 15–20 years or more. We offer a one-year warranty on craftsmanship and up to a 20-year warranty on rust-through, depending on gauge.
Do you offer metal barns with garages?
Yes! Several of our metal barns have drive-in garages with roll-up garage doors.
Can I buy metal lean-to barns?
Yes. Lean-to barns offer an ideal combination of open-air and overhead shelter, making them perfect for farm dinners, BBQs, and family gatherings. They're also an affordable and versatile metal barn option.
delivering & installing
throughout
the united states
Bulldog's metal barns, garages, and carports are available for delivery and installation in most of the U.S. Whether you're a homeowner in Maine, a rancher in Texas, or a small business owner in California, you'll get to-your-door delivery and professional installation, so your building will be sturdy and reliable for years to come.
See Service Area
See Service Area