Metal Garages
Want to know what's possible with your next building? Check out our portfolio below to see the buildings we've done for our past happy customers. Contact us for a free quote or build your own building.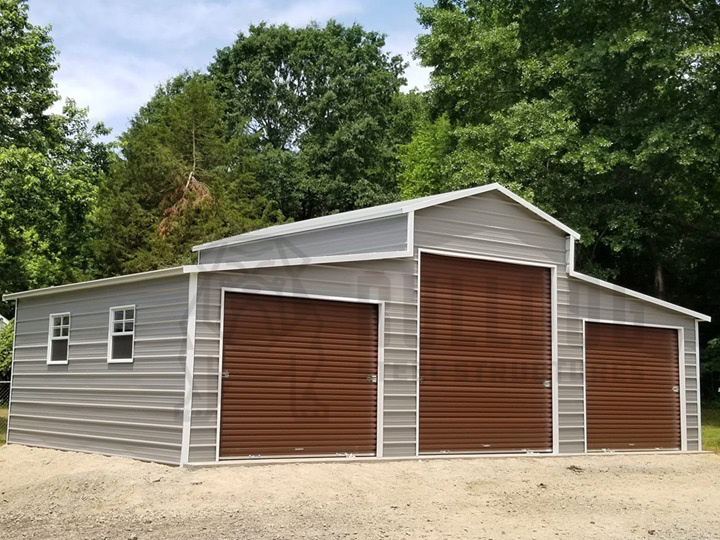 36′ x 20′ x 12'/8′ Carolina Barn
Metal Garages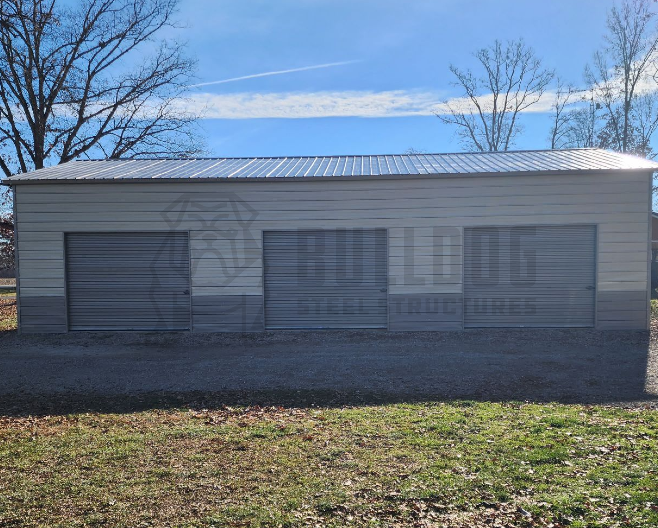 Metal Garages
Metal Garages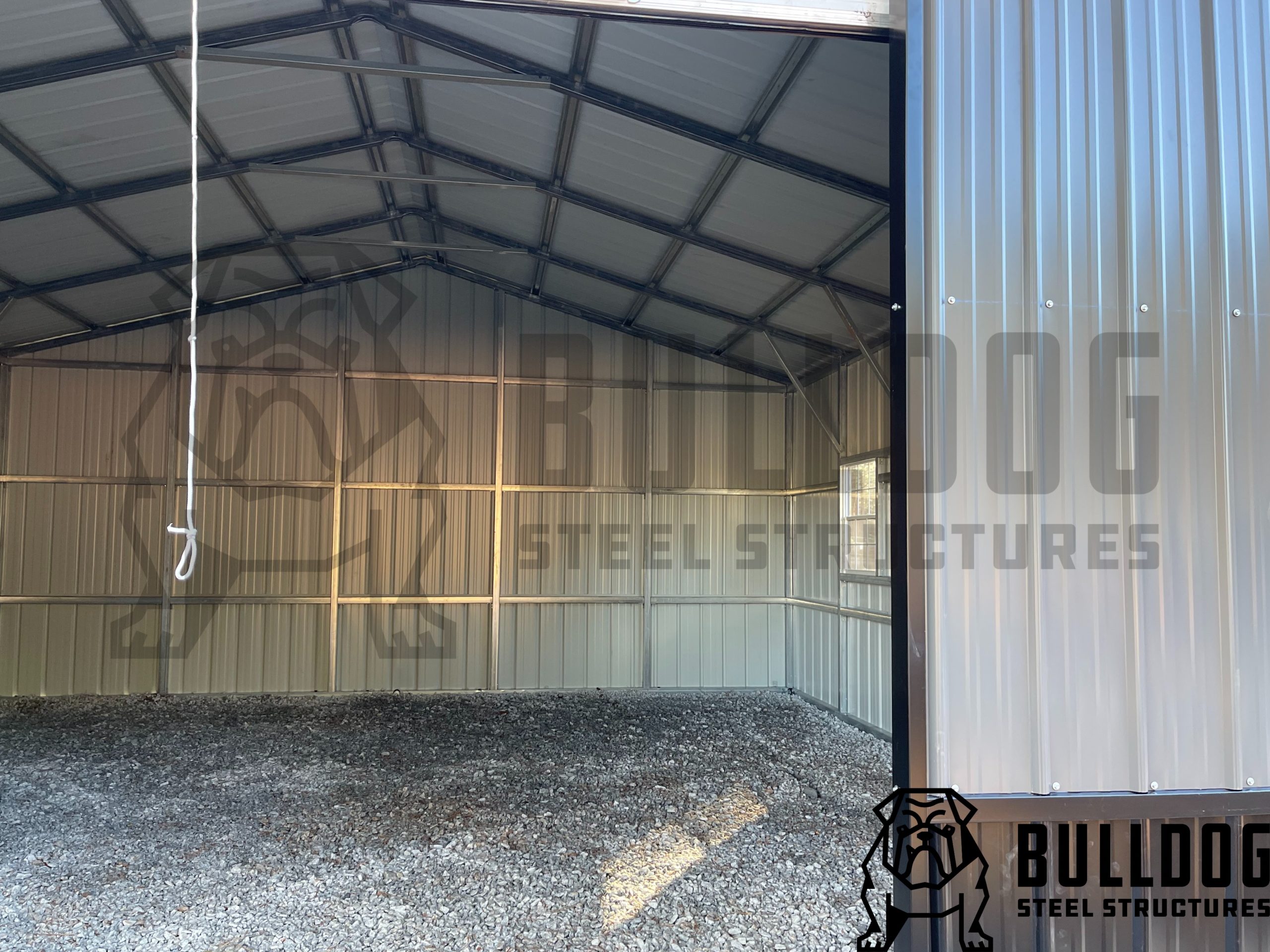 Metal Garages
Metal Garages
Metal Garages
Metal Garages
Metal Garages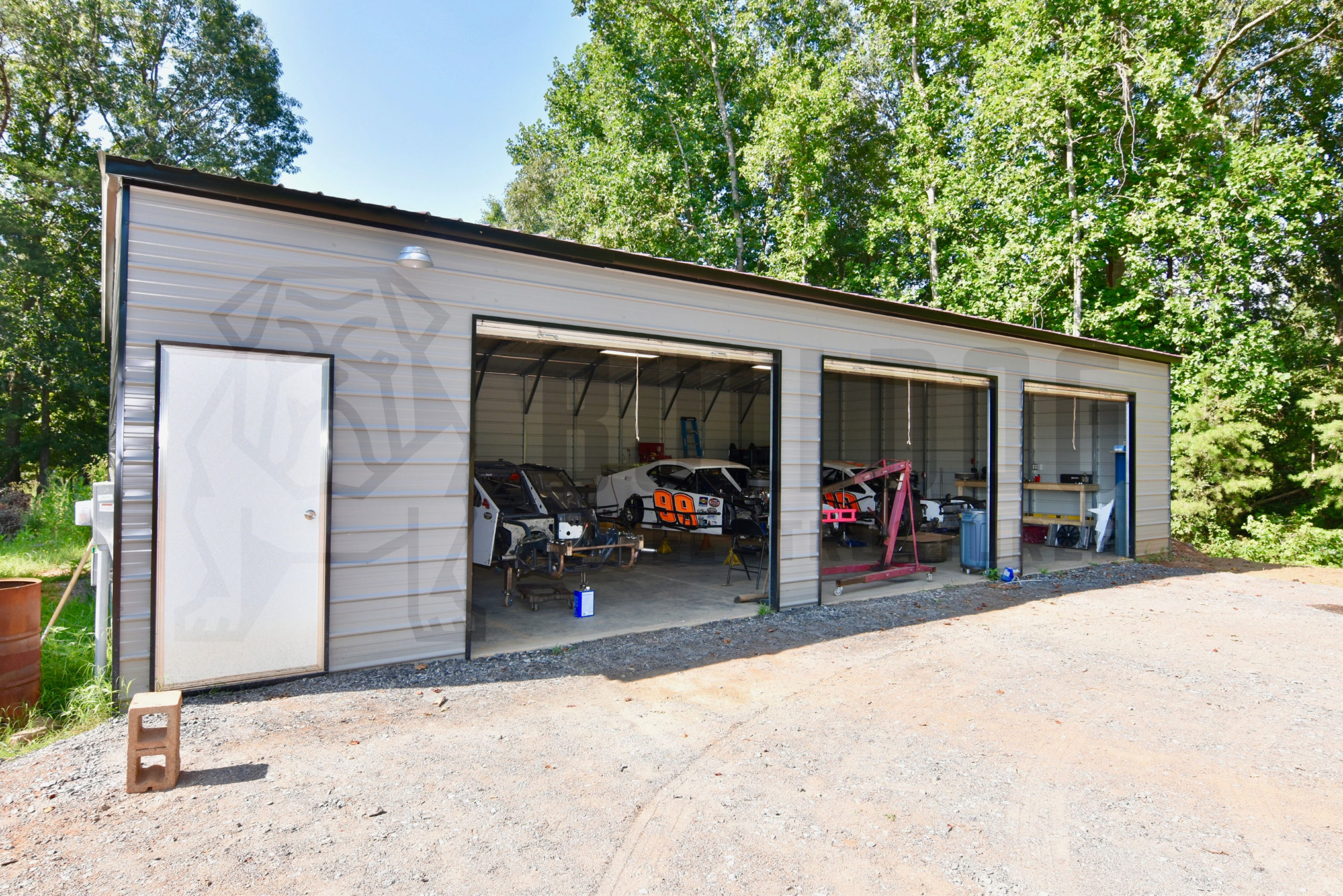 Metal Garages
Custom Metal Garages
To protect your car, truck, boat, or motorcycle, you need a sturdy metal garage that will withstand the elements. A custom metal garage from Bulldog Steel Structures protects your possessions from sun, wind, hail, debris, theft, and vandalism.
Whether you're storing vehicles or holiday decorations, our custom steel garages keep your belongings safe for years to come.
Bring your vision for your custom steel garage to life with the help of Bulldog Steel Structures. Contact us today at (888)-551-2156.
Benefits of Custom Steel Garages
When it comes to your garage, it's more than just a structure on your property. It's where you store your cars, decorations, and hobbies or where you host yoga or band practice – your garage is more than just a garage; it's a space that holds what's important to you.
That means you need a garage that can protect your possessions and withstand the test of time. You need a custom metal garage from Bulldog Steel Structures.
Benefits of a steel garage manufactured in the U.S. include:
Durability: You can count on your steel garage holding up to rain, snow, wind, heat, lightning, and time. Unlike wooden structures, your steel garage won't rot or get infested with termites.
Customization: Whether you need a one-car garage or some serious space with a six-car garage, Bulldog Steel Structures can customize your metal garage to fit your needs. You can choose from different colors, sizes, roof styles, and more.
Flexibility: You might only need a two-car garage now, but what if your fleet grows? Steel structures are easy to expand in the future, meaning your choices today don't have to limit your options down the line.
Financing a Metal Garage
Curious about the cost of a custom metal garage? Start with a free quote today.
We offer convenient, affordable financing options. Our flexible payment options put the cost of metal garage ownership within reach of any budget. We offer rent-to-own options, too.
Rent-to-Own Garages Delivered to You
We understand that metal buildings are an investment and make the process simple to ensure you get a high-quality metal garage while staying within budget.
Our rent-to-own program offers instant approval — no credit check needed. You can own your metal garage in three years or less! With our rent-to-own program, you can count on:
Affordable monthly payments
Flexible payment options
No penalty on early payoffs
No credit check required
Simply customize the garage you've always wanted, understand the transparent rent-to-own terms, and fill out the paperwork for immediate approval.
Top Factors To Consider When Buying a Metal Garage
Buying a custom metal garage is an investment, and like any investment, you want to make a smart buying decision.
Here are some things to think about when purchasing a garage:
What are you using the garage for?
Will the amount of storage space you need change over time?
How much space do you have for a metal garage?
What is your budget?
Are you willing to take advantage of Rent-to-Own/financing?
Do you have a level foundation for a steel garage?
Do you need a permit?
Suggested Reading & Industry Tips
Roof Style
BOXED-EAVE GARAGES
This type of roof gives your garage a sturdier and simpler look but will still provide the necessary protection from water, weather, and any other atmospheric damage. It also offers a closed-eave area and squared edges to match the building.
REGULAR GARAGES
Our regular garage style offers a no-nonsense, no-frills approach. It's great as a budget option or for those who appreciate a simple and utilitarian aesthetic.
VERTICAL GARAGES
This garage includes roofing pieces that are installed vertically, so all weather and other debris can more easily slide down the roof, meaning it will incur less damage and buildup over time.
Metal Garage FAQs
Why Choose Bulldog Steel Structures?
At Bulldog Steel Structures, we offer expert solutions for all your storage needs. We'll work with you to create your ideal custom steel garage. Other benefits of working with us include:
American-Made Garages
All our galvanized metal garages are made here in America to ensure the highest standards of quality control, materials, and design. You can be confident that our metal is of the highest quality and consistency, whatever your budget.
Best Metal Garage Prices Online
We offer top-notch buildings with the best online prices. Our metal garage pricing is the most competitive you'll find in the industry. We confidently price match when provided with a quote from an equivalent competitor.
Faster Delivery
We provide free home delivery and free installation for any structure you've purchased. All you need to do is select your building and wait for delivery directly to your site.
See the difference it makes when you work with Bulldog Steel Structures.
Contact us today at (888)-551-2156 to start your free quote or learn more.
delivering & installing
throughout
the united states
Bulldog's metal barns, garages, and carports are available for delivery and installation in most of the U.S. Whether you're a homeowner in Maine, a rancher in Texas, or a small business owner in California, you'll get to-your-door delivery and professional installation, so your building will be sturdy and reliable for years to come.
See Service Area
See Service Area